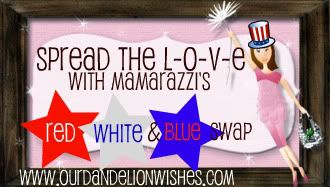 ...for the second time in 4 weeks
making me a miserable cranky crampy
pre-menapausal bitch inbetween effin'hot flashes - but I digress...
My Mamarazzi Red White and Blue Swap package!!!
The sun came out inbetween raindrops...
then the rain stopped for a little...
enough for me to enjoy a beverage and a suprise on the patio!
How fanatstic, right? Bet you wish you had a suprise!
(I adore red - I only wear shades of red)
(would go perfect with the dress I am wearing - but the mood I am in -
there will be no paparazzi!)
the perfect Patron shot glass!
(I say it's a Patron shot glass so when Shane gets home I can tell him he has to go get me a bottle
since I have a new Patron shot glass - there is always a method
- ok, most of the time - to my MADNESS!)
Thank you Hollie!
I promise as soon as I am feeling better I will take pics of me enjoying my goodies!
Check out her blog and what I sent her and her most adorable son...
and thank you Mamarazzi for another
fabulous Swap!
I hear thunder - looks like we are getting another storm!
Good thing I am in a stormy-stay-inside kinda mood!
HAPPY 4th Folks!
*great big fire work hugs!*